FL Bond Program - Up to $7,500 toward Down Payment Assistance
One of the first steps in the home buying process is to consult with a mortgage lender about your financing options. When you know what you can afford, you can focus your home search and make your move more quickly when you find the property you want.
As the consumer, it's your right to freely choose who you feel most comfortable to work with. We have many vendors whom our team can connect you with; just ask us and we can send you over a full list. Fairway Independent Mortage Corporation is one of our trusted mortgage lenders.
About the FL Bond Program
1st Mortgage Program
The Florida Bond program allows 1st time home buyers to acquire an FHA, USDA, VA, or Conventional loan that range from 95%-100% LTV (loan-to-value ratio). That means that many 1st time home buyers will be able to secure a low-interest home loan through the FL Bond program with little to no money down.
Here are your down payment options under the FL Bond program:
USDA - 0% down

VA

- 0% down

FHA

- 3.5% down
Conventional - 3% or 5% down
Down Payment Assistance
Through the Florida Bond program, 1st time home buyers will qualify for the Florida Assist down payment assistance loan, which provides a $7,500 loan with a 30-year term, 0% interest and $0 payments as long as you occupy and do no refinance the property.

Buyers using the Conventional Bond program have the choice to receive a grant equal to 3% of the sale price of the home and is not required to be paid back after 5 years of living in the home. For example, a buyer buying a $250,000 home using a Conventional loan under the FL Bond program will receive a $7,500 grant that will be forgiven after 5 years.
---
FL Bond Program
Two ways to use the assistance:
Government Loan
Includes a $7,500 2nd mortgage with 0% interest & no repayment until the end of the 30-year loan term.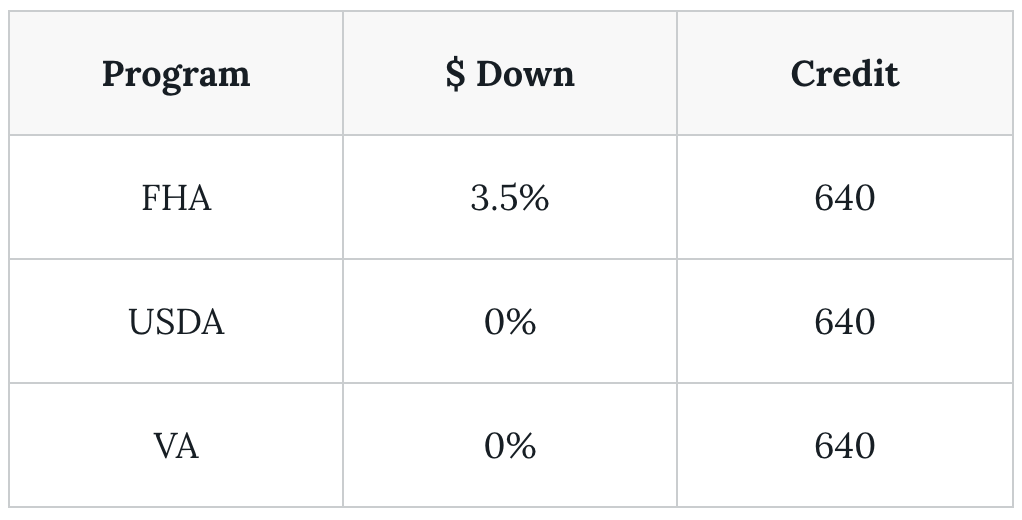 Conventional Loan
Includes either (1) a $7,500 2nd mortgage or (2) a 3% grant that requires no repayment after 5 years.

---
But who qualifies as a 1st time home buyer? The answer might surprise you...
A FIRST-TIME HOME BUYER IS DEFINED AS AN INDIVIDUAL WHO HAS NOT OWNED AND OCCUPIED A PRIMARY RESIDENCE WITHIN THE PAST THREE YEARS.
Under this definition, you may still qualify for the Florida Bond program even if you have purchased and currently own a home! Finally, Veterans are exempt from the 1st time homebuyer requirement.
How does the Florida Bond Program work?
The Florida Bond program is offered through the Florida Housing Finance Corporation and is available to borrowers through certain local and approved lenders. In order to offer the FL Bond program, loan originators must be certified. All loans under the FL Bond program are sold after origination to the Florida Housing Finance Corporation and are serviced by US Bank.
THE GOAL OF THE FLORIDA BOND PROGRAM IS TO MAKE HOME OWNERSHIP IN FLORIDA MORE AFFORDABLE FOR FIRST-TIME HOME BUYERS.
What are the Income & Property Value limits?
1st time home buyers using the Conventional Bond program are exempt from these income limits. Income limits under the Florida Bond program vary from county to county and are typically equal to 115% of the median income for the county based on the number of household members in the family.
Here are the income limits for Pinellas County:
1 household family member - $76,475
2 household family members - $76,475
The property value limit in Pinellas County is $438,750 and $536,250 in federally designated target areas.
Interest Rate for the FL Housing First Time Homebuyer Program The interest rate for the FL Bond Program changes over time. Your lender will be able to confirm the current interest rate once you are pre-approved.
---
See if you qualify in less than 24 hours!
Fill out the form below to get started.