Local IRB Legend Crabby Bill Passes Away at Age 86
Posted by The Gallagher Group at Keller Williams Realty on Thursday, April 19, 2018 at 11:56 AM
By The Gallagher Group at Keller Williams Realty / April 19, 2018
Comment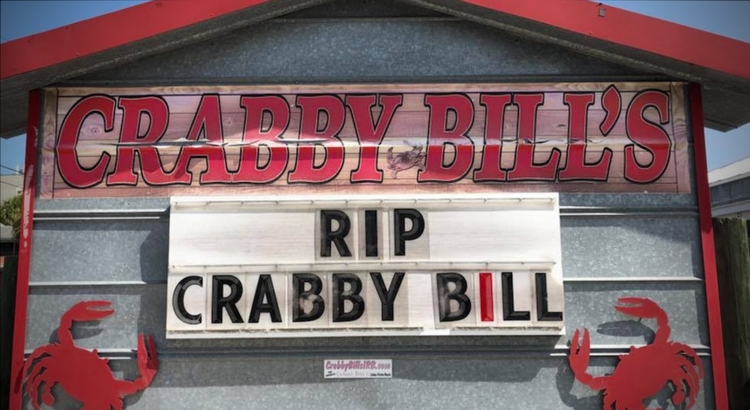 INDIAN ROCKS BEACH - Bill Loder, who became a celebrity on Indian Rocks Beach as the face of Crabby Bill's, one of its best-known restaurants, passed away Thursday afternoon. He was 86.
"Our dear father and founder Crabby Bill passed from this life today to join his beloved Dolores, children Cookie, George, and granddaughter Doe. He was surrounded by family and went with dignity and courage as he lived his life," his son Matt Loder said in a post on Facebook.
His cause of death was not disclosed.
According to the restaurants' website, Loder made his foray into the seafood business after he married his wife Dolores in 1945. The couple sold blue crabs on the side of the road and opened a small seafood restaurant in New Jersey. In 1968, Bill and Dolores moved to Madeira Beach where they sold blue crabs, fished, clammed and sold seafood throughout the state.
They finally opened up Captain Bill's Beach Kitchen in 1975 and went on to open several other restaurants in Redington Shores, Madeira Beach, Bay Pines, and Tyrone. In 1983, they moved into a small building that used to be a hot dog stand and sold franks out of their front window. That building eventually became home to the very first Crabby Bill's, which would later become an institution.
Loder opened a few more Crabby Bill's locations, then sold the company in 1995. Two years later, he bought the company back, and now his family manages operations for the Crabby Bill's located in St. Pete Beach. The family also runs Crabby Gifts, Jake's Mexican Cantina (a southwestern themed Cantina), LuLu's Oyster Bar and Tap House, and Seabreeze Island Grill, a seafood restaurant located in Redington Beach.
Loder leaves behind three children and a dozen grandchildren. His wife Dolores passed away in 2000, and his two children Cookie and George died in 2010.