Crabby's Dockside on Clearwater Beach is Awesome!
Posted by The Gallagher Group at Keller Williams Realty on Saturday, March 24, 2018 at 8:42 PM
By The Gallagher Group at Keller Williams Realty / March 24, 2018
Comment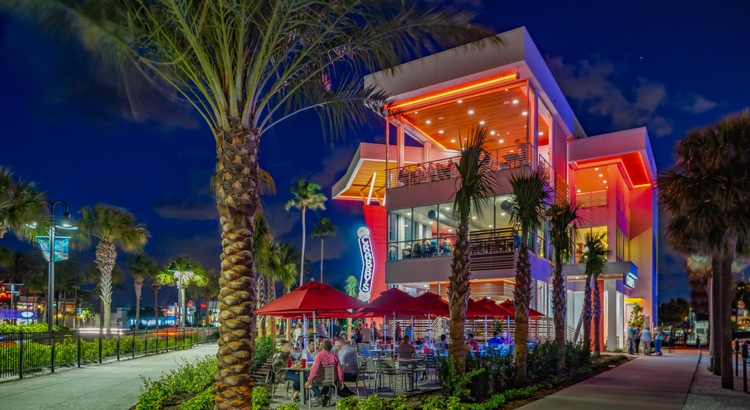 CLEARWATER BEACH - If you haven't been there yet, the Crabby's Dockside on Clearwater Beach is Awesome! Crabby Bill's was an institution on Clearwater Beach for 17 years. But the lease was up. The city wanted a request for proposal submitted for prospective tenants for the space (didn't know a restaurant review was going to get all business-jargony, did you?) and a whole bunch of the area's beachside stalwarts threw their hats in the ring. Who won?
Crabby Bill's. Sort of.
The Loder family has the Original Crabby Bill's in Indian Rocks Beach, plus Lulus Oyster Bar, Seabreeze and Jakes Cantina. But they recently parted ways with the restaurant group that owned the Clearwater Beach Crabby Bill's locations, managed by Lisa Smithson and Greg Powers, who have three Salty's locations, Crabby's Beachwalk Bar & Grill and what debuted in March as Crabby's Dockside, at the precise location of Crabby Bill's. Got all that?
A completely new structure replaces what was a sprawling good-times beachy place set in a converted gas station. It's much more contemporary, modern even, several stories high with lots of poured concrete. Klar and Klar Architects envisioned three distinctly different dining experiences on each level of the restaurant. The top floor, more than 40 feet high, has a covered, open air bar with panoramic views of sunsets over the Gulf of Mexico, kind of like a sentinel guarding the beach from downtown Clearwater.
There have been problems. The city is miffed because there wasn't the promised wood-like cladding. The reason? The project was budgeted at $2.4 million and rang in at $4 million, the wood cladding costing an additional $80,000. But while the owners and the city hash it out, let's talk about the food.
First of all, this is not a relaxing setting. It's hugely busy: Once you've finally found a place to ditch your car, you put your name in with the host, she says "45 minutes," you sigh and give her your cellphone number and eventually she calls you and hands you a chit of paper. You look at it, uncomprehending, and she says: "Take this to the hostess on the third floor and she will seat you." Ah, okay. Maybe you wait for the elevator or maybe you walk up the steps in the strangely unfinished-looking stairwell. And indeed, a beleaguered host then peers at your chit and seats you.
A lot of the staff was rehired from the old Crabby Bill's, so they know this menu, which remains largely unchanged. The staff is friendly but hammered by a relentless throng of hungry and sun-addled visitors, the french fry-snitching pigeons and seagulls a minor nuisance in the scheme of things.
This is rum runner ($8) country, "Crab Trap Bucket" territory (coconut, mango, passion fruit and pineapple rums; orange, pineapple and cranberry juices; ice and a big ol' plastic bucket, $13.99, $10 during happy hour), the place you tuck into a hands-only bucket of bairdi crab (long, red Alaskan snow crab legs often called tanner), royal red shrimp, mussels and middleneck clams, maybe with a glug of hot sauce, maybe a vigorous waggle of butter (market price; mine was $29.98).
I visited twice and made my way through a whole lot of seafood, some of it fried (a workhorse crab cake, $10.99, with a nice golden crust), some of it grilled (gulf grouper, exceedingly fresh tasting, $19.99), and some of it raw (a dozen gulf oysters from Texas, with saltines and hot sauce, nothing fancy but appealingly meaty and salty, $13.99). The house salad is perfunctory, but there are plenty of better-than-they-have-to-be sides, from Southern stewed green beans to garlicky mashed potatoes and a solid mayo-heavy slaw.
What distinguished Clearwater Beach's Crabby Bill's when it was under the Loder family's watchful eye was an attention to sourcing seafood, preferably from the gulf. That still seems to be largely the case. I'm guessing the shrimp on the Key West grilled combo ($19.99) are farmed, and not in these parts, but the royal reds have that characteristic sweetness and nearly lobstery sumptuousness (I suppose they could be from Alabama if not Florida). Certainly the grouper was the real deal.
The clientele here is mostly tourists. But Crabby's Dockside puts our best foot forward — there's excellent key lime pie ($4.99) from Mike's Pies and Florida gator bites ($10.99, $11.99 if you want them with the silly-hot sauce featured on the Food Network), so visitors can return from whence they came with a story beyond the sunburn and the pigeon that stole their fries.
Contact Laura Reiley at [email protected] or (727) 892-2293. Follow @lreiley. She dines anonymously and unannounced; the Times pays all expenses.
Link to original article: http://www.tampabay.com/things-to-do/food/dining/restaurant-review-new-crabbys-dockside-on-clearwater-beach-retains-beachy/2330465
---
Clearwater Beach Homes for Sale
Included below are homes for sale in Clearwater Beach. If you would like more information on any of these Clearwater Beach real estate listings, just click the "Request More Information" button when viewing the details of that property. We can provide you with disclosures, past sales history, dates and prices of homes recently sold nearby, and more.
And, if you haven't already, be sure to register for a free account so that you can receive email alerts whenever new Clearwater Beach listings come on the market.